West is shocked: British money leaked to Syrian «head choppers» — BBC investigation (PHOTO)
06.12.2017 - 16:28
BBC decied to shock its audience by revealing its investigation results which showed how taxpayers' cash was being diverted to extremists in Syria.
The government has suspended a foreign aid project after a BBC Panorama investigation found taxpayers' cash was being diverted to extremists in Syria.
A UK government spokesman said it takes allegations of co-operation with terrorist groups «extremely seriously».
Adam Smith International, the British company running the project, said it strongly denies the allegations.
The Free Syrian Police (FSP) was set up following the uprising in Syria, to bring law and order to parts of the country that were controlled by opposition forces.
Adam Smith International (ASI) has been running the project and distributing funds since October 2014.
Britain was one of six donor countries paying for the project. «Free Syrian Police» operates in several Syrian provinces inclusing Aleppo, Idlib and Daraa where the main forces is Syria's biggest terror organization — «Hayat Tahrir ash-Sham»* («Jabhat an-Nusra»*, «Al-Qaeda»*).
Donor countries insist that those «policemen» shoud be unarmed and do not co-operate with extremist groups.
But BBC journalists managed to learn that those rules set by the Europeans are often violated. Some of the allegations against the project include:
«Policemen» cooperated with sharia courts that carry out summary executions — including a case where two women were stoned to death.
«Policemen» received sponsor funding in cash and handed it over to the extremists controlling the area.
«Free Syrian Police» officers were handpicked by an extremist group leaders.
Dead and fictitious people were on the police payroll.
Foreign Secretary Boris Johnson announced in April that the UK would commit a further £4 million to the UK-funded Access to Justice and Community Security (AJACS) scheme that supports the FSP.
ASI says the FSP is an unarmed community police force that brings the rule of law and safety to millions of people in a war-torn country.
An ASI spokesman said it "strongly refutes BBC allegations". It looks like they protect the program which feeds them as well.
«We have managed taxpayers' money effectively to confront terrorism, bring security to Syrian communities and mitigate the considerable risks of operating in a war zone," he said.
"ASI has managed the project successfully alongside our partner in an extremely challenging, high-risk environment under the close supervision of the Foreign and Commonwealth Office and five other governments."
The company says it uses cash to fund the police because there is no practical alternative - and that the British government is aware of the payments.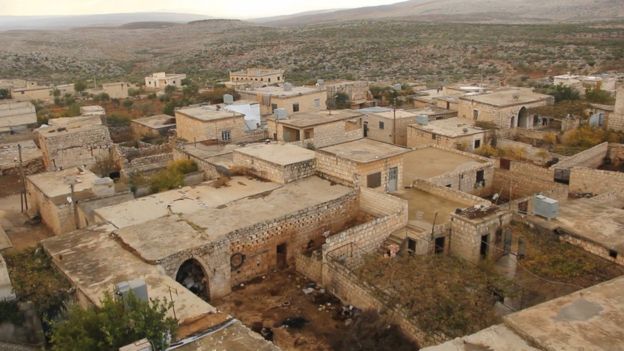 A police station in Koknaya was supposed to be the base for 57 officers — but ASI staff could not find any police officers during a visit in 2016
BBC has obtained ASI documents that show dead and fictitious people were on the police payroll.
One police station in Koknaya in Idlib province was supposed to be the base for 57 police officers. But the documents show that when ASI's staff visited in September 2016, they couldn't find a single officer.
ASI said officers were accounted for on subsequent visits. The company has now suspended the payment of all salaries at the Koknaya police station.
It said it had identified very few examples across Syria where deceased officers had remained on the salary list.
The documents also show how some police officers in Aleppo province were forced to hand over cash to the extremist group - Nour al-Din al-Zinki - in control of the area.
The Nour al-Din al-Zinki Movement has been linked to atrocities including the beheading of a young prisoner in 2016, the boy was aged between 10 and 13 y.o..
READ ALSO: Shocking footage: «opposition» thugs cut off child's head for being «Assad's supporter» (VIDEO, PHOTOS 21+)
An ASI report from July 2016 warned that 20% of all police salaries were being handed over «to pay for the military and security support that Zinki provides to the five FSP stations located areas under its control».
As well as handing over a cut of British aid money to Zinki, the police had also worked with a Zinki court "by writing up warrants, delivering notices, and turning criminals over to the court".
The police cooperation has continued despite allegations of torture and summary executions involving the court at al-Qasimiyeh.
ASI says it has strict guidelines in place to ensure detainees are treated fairly and humanely, and that payments to the police stations which were paying Zinki were stopped in August 2016. It says donor governments were kept fully informed.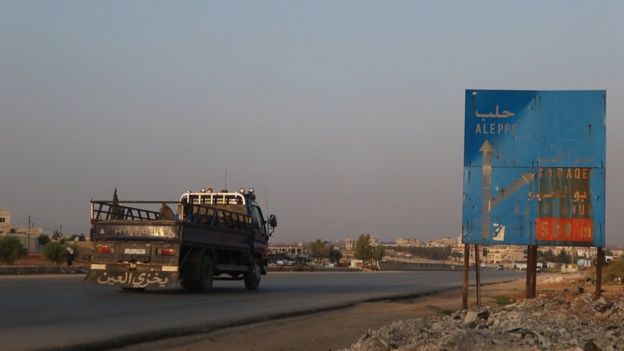 A road near Sarmin — where two women were stoned to death in the presence of FSP officers ​
Panorama also discovered that the Free Syrian Police provided support for courts run by the Syrian branch of al-Qaeda — Jabhat al-Nusra — which handed out extreme punishments.
Local «policemen» were present when two women were stoned to death near Sarmin in December 2014 in the North-West of Syria. Sources have told Panorama the «policemen» had closed the road so that the execution could take place.
BBC has also seen evidence that «Jabhat an-Nusra» handpicked police officers in two stations in Idlib province.
ASI says that the officers imposed by Jabhat an-Nusra» were detected in under two months and that payments to the station were then stopped.
The company says the payments in question only amounted to $1,800 (£1,340) and did not come from British government funds. But ASI didn't explain how they could be sure when the whole project is funded by cash.
A UK government spokesman said: "We take any allegations of co-operation with terrorist groups and of human rights abuses extremely seriously and the Foreign Office has suspended this programme while we investigate these allegations.
"We believe that such work in Syria is important to protect our national security interest but of course we reach this judgment carefully given that in such a challenging environment no activity is without risk. That's why all our programmes are designed carefully and subject to robust monitoring."
---
* terror organization banned in Russian Federation.